We have a highly skilled team of water bears that are only based in the USA and help improve our customer's marketing campaigns month over month.
Our most popular products and services in our AdPantry are WebsiteDesign, PaidSearch, OrganicSearch, BannerAds, OnlineVideo, and OfflineTracking.
Our proprietary Advertising With Intelligence® marketing technology and targeting capabilities, including GeoDemo®, GeoIntention®, and ReEngage®, consistently perform significantly better than industry averages.
MARKETING CONSULTANTS WITH
Water Bear Marketing takes great pride in the plethora of details we provide our customers in our reporting dashboard.
With our reporting dashboard, you get 24/7 access to your campaigns in one place.
We've managed thousands of ad campaigns across almost every vertical imagined. We're good at what we do and have the data to back it up.
At Water Bear Marketing, meeting your marketing expectations is our number one objective. We provide our customers with 24/7 access to our reporting dashboard. This transparency allows our customers to have access to review their campaign performance anywhere and anytime. Our goal is to drive the best return on investment by tracking results and making adjustments to our customer's marketing campaigns.
We continuously meet with our customers, in person or virtually, to review their campaigns, make changes as needed, and improve results.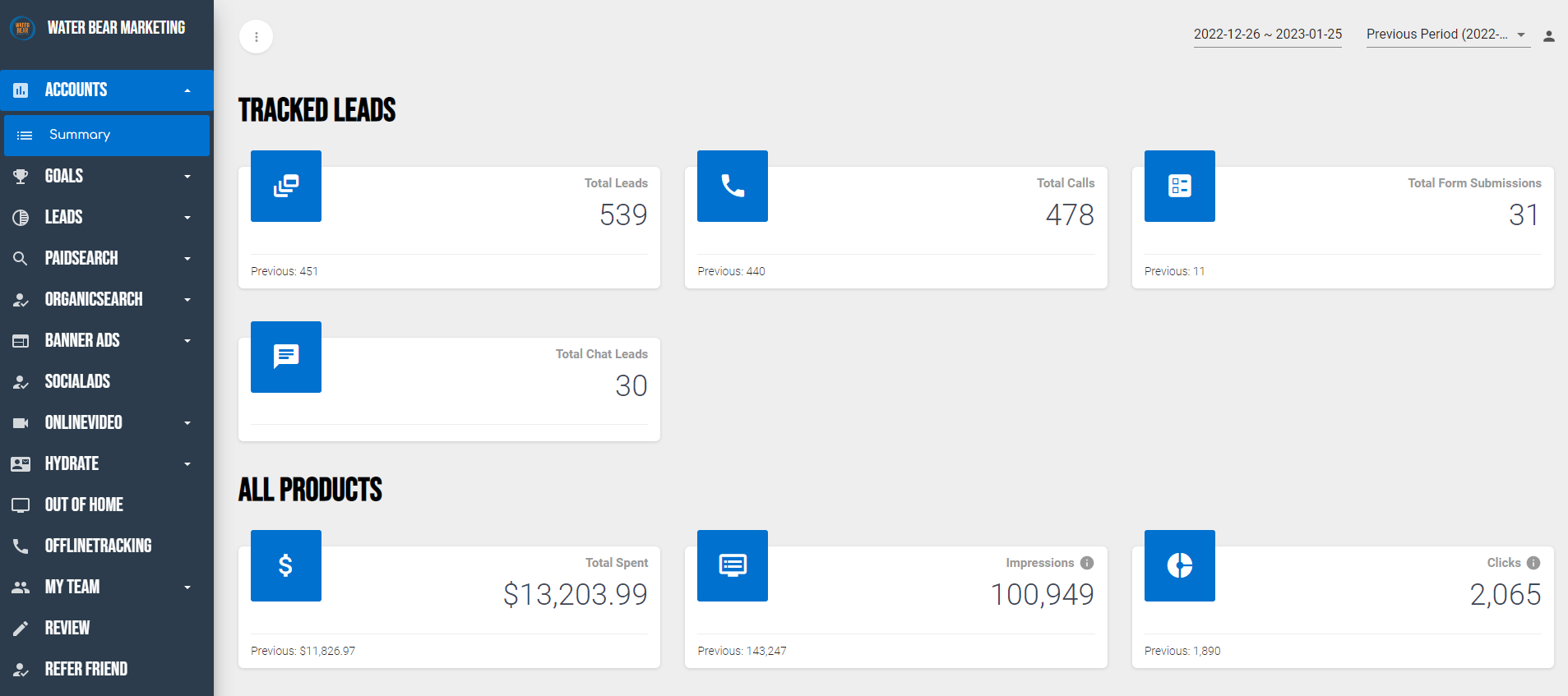 Connect With an Advertising Consultant Today!
Effectively communicate with your potential, current, or former customers consistently. Hydrate with ReEngage requires minimal setup to start sending powerful communications.
Reach 99% of the places that people search online with our proprietary technology. Water Bear provides proactive tracking of results through phone calls, online sales, and form submissions.
Eliminate wasted ad impressions by leveraging Water Bear's technology and proprietary targeting products. Banner ads help you create brand awareness in a place where viewers can take immediate action, online.
Combine your digital efforts with your out of home marketing to differentiate yourself from the crowd. Reach audiences in critical locations within your target market and make a splash with Water Bear's targeting capabilities.
Customized, optimized, and mobile responsive, our intuitive web designs are built for conversions. Make the first impression you want with website design and development services.
Start with on-site SEO, add in off-site SEO with authority building, citation building, and reputation management for a multi-pronged approach that increases your brand's search engine rankings.
Get in front of people by leveraging a commercial that can be linked back to your website or landing page. Over 70% of adults are on mobile, desktop, or tablet devices; start connecting with your audience today!
Curious about how advertising efforts are performing? We're all about transparency. With OfflineTracking, Water Bear provides 24/7 access to call reporting, recording, and lead rating abilities to ensure your budget is well spent.
Unlock a new avenue for customers to connect and interact with your business. From gathering reviews to messaging customers about appointments and payments, chat saves time and money while increasing engagement.