Hydrate with ReEngage is designed to help you effectively communicate with your potential, current, or former customers consistently. Hydrate with ReEngage can help you stay top of mind through SMS, MMS, Voice Messages, Emails, Letters, and Postcards, while enriching other marketing solutions like BannerAds, OnlineVideos, and PaidSearch. Hydrate with ReEngage requires minimal setup to start sending powerful communications.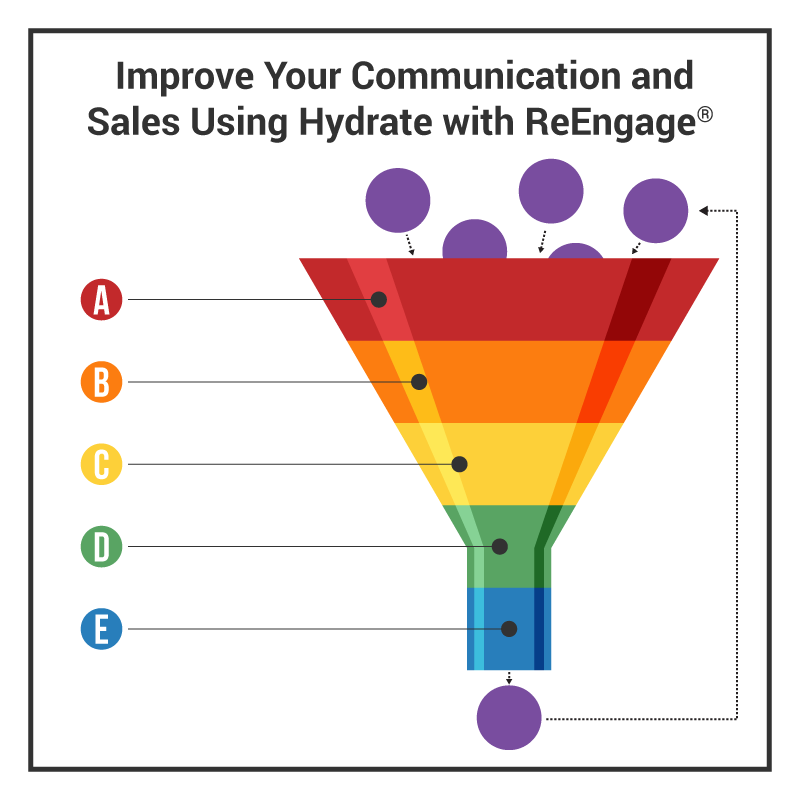 The Best Way to Nurture Leads
Water Bear Marketing ensures that you can reach prospective leads or customers, using Hydrate with ReEngage, as they move through your buying funnel. Our proprietary technology can help your business get more business while maximizing your return on advertising spend.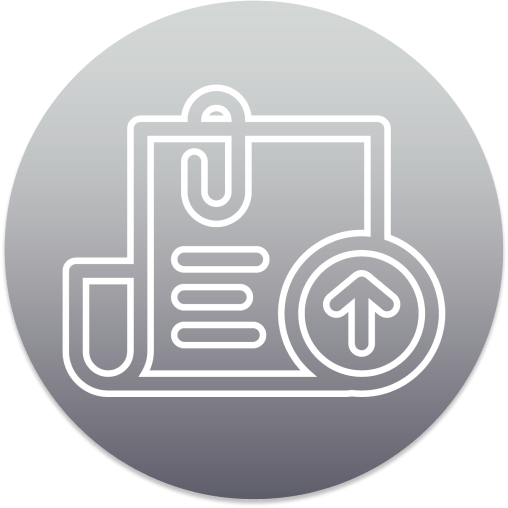 Customer List
When using our products, Hydrate can automatically capture various contact information of your potential, current, or former customers and help you manage them through your buying funnel.
*If you have additional lists, they can be bulk uploaded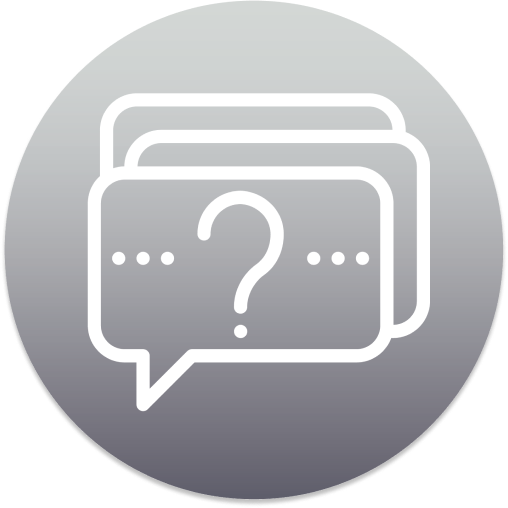 Select Messaging
Start off with Water Bear's default messaging, or customize your own messaging for prospective leads, current customers, and others.  New special or promotion coming up? Send out a one-time message. Customization is at your fingertips.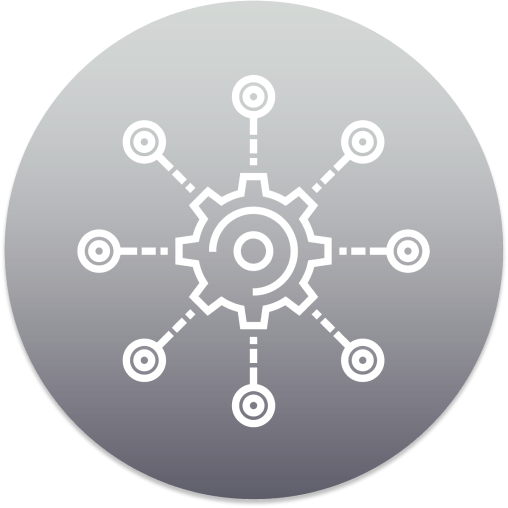 Let the Magic Happen
Hydrate leverages Advertising With Intelligence® technology and can send routine messages based on who they are, where they are in your buying funnel, and their contact info. That way, we can help you continue the conversation with your prospects and customers.
Connect With an Advertising Consultant Today!
At Water Bear Marketing, meeting your marketing expectations is our number one objective. We provide our customers with 24/7 access to our reporting dashboard. This transparency allows our customers to have access to review their campaign performance anywhere and anytime. Our goal is to drive the best return on investment by tracking results and making adjustments to our customer's marketing campaigns.
We continuously meet with our customers, in person or virtually, to review their campaigns, make changes as needed, and improve results.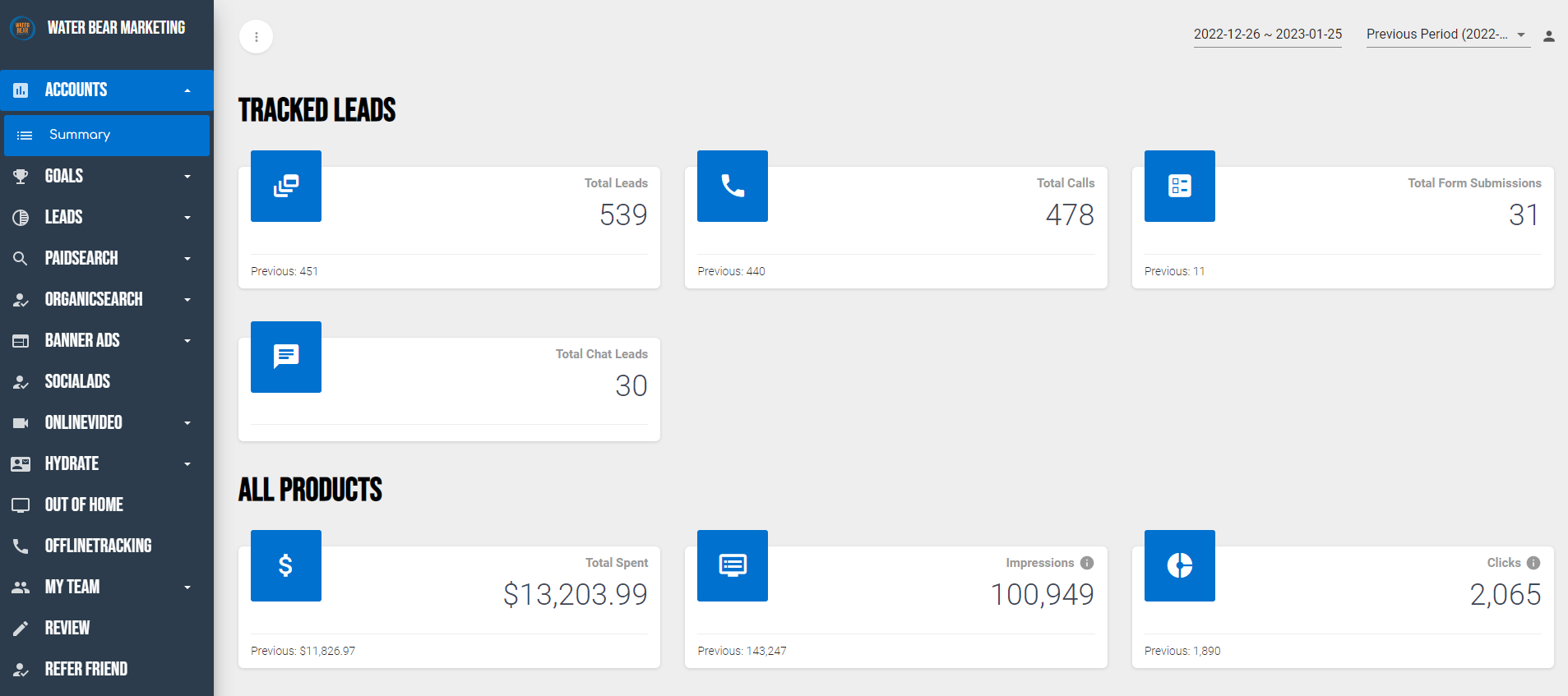 MARKETING CONSULTANTS WITH
Water Bear Marketing takes great pride in the plethora of details we provide our customers in our reporting dashboard.
With our reporting dashboard, you get 24/7 access to your campaigns in one place.
We've managed thousands of ad campaigns across almost every vertical imagined. We're good at what we do and have the data to back it up.